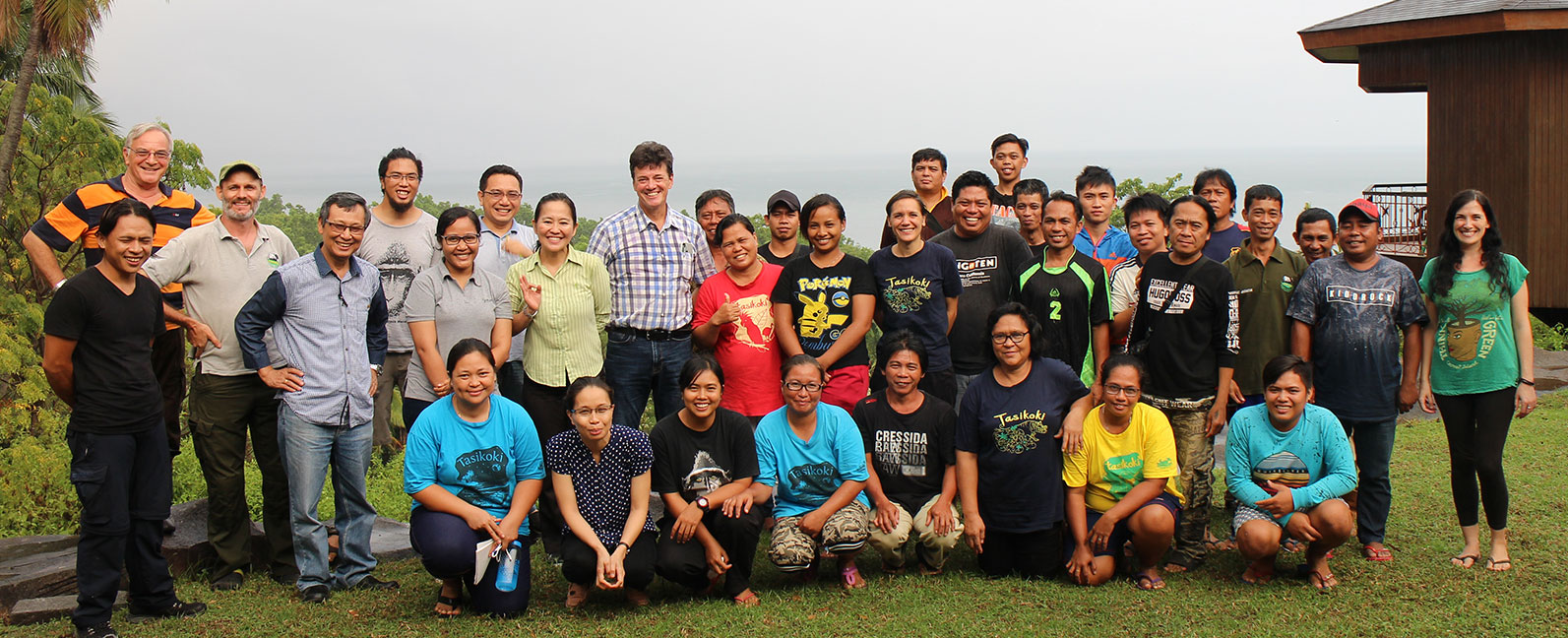 JOIN THE TEAM
At Tasikoki Wildlife Rescue & Education Centre you will find a diverse group of dedicated and caring individuals who are passionate about wildlife welfare and nature conservation.
Our admirable employees and international volunteers are working in collaboration to achieve the mission and objectives of Tasikoki which is a non-governmental, not for profit organisation.
Conscious of the environmental challenges that face us all on a global level, we seek to strengthen our diverse team with more energetic and driven individuals who will help us to deliver on our important objectives.

These roles not only provide the opportunity to live within Wallacea, one of Indonesia's
most unique and diverse eco-systems, but they also offer the right candidate an assignment which will reward you with a meaningful and fulfilling career.

We are currenlty looking for confident, positive and energetic individuals to fill the positions below.
If you are interested please forward your full CV and covering letter to info@masarang.or.id stating the position you are interested in applying for.

HEALTH & HUSBANDRY CO-ORDINATOR
Responsible for the general health and husbandry of the wildlife housed at Tasikoki.  We are seeking a coordinator who can support and guide the clinic and both husbandry teams: Veterinary team, Keeper team and Volunteers during their activities at the rescue centre.


HUSBANDRY COORDINATORS
BIRDS, PRIMATES, REPTILES
We are currently looking for qualified Husbandry Coordinators that can help us with the development and implementation of Husbandry routines for our volunteering programme.
Experience and qualification in the specific taxa is a must.


SECURITY CO-ORDINATOR
We need an experienced security co-ordinator to manage a team of 6 security staff, arrange patrol schedules, improve overall security standards and keep Tasikoki grounds safe for all Wildlife and visitors in our care.

BERGABUNGLAH BERSAMA KAMI!
Di Pusat Penyelamatan Satwa Tasikoki, kita akan menemui individu dari latar belakang yang berbeda namun memiliki kecintaan terhadap satwa liar dan konservasi.
Staf dan sukarelawan internasional kami bekerja bahu-membahu bekerja sesuai dengan visi dan tujuan sebagai pusat penyelamatan satwa, perlu dicatat bahwa Tasikoki bukan organisasi pemerintah dan tidak berorientasi pada profit (tidak mencari keuntungan).
Sadar akan banyaknya tantangan lingkungan di tingkat global, kami berusaha untuk memperkuat tim dengan mencari individu yang lebih energik dan penuh semangat yang akan membantu mencapai misi kami.

Keuntungan ini tidak hanya berkesempatan untuk tinggal di kawasan Wallacea (salah satu kawasan paling unik dan tingginya keanekaragaman hayati), namun juga memberikan pengalaman yang sangat berharga bagi karir nantinya.

Kami sedang mencari individu yang energik, penuh semangat, serta penuh rasa percaya diri untuk mengisi beberapa posisi di Pusat Penyelamatan Satwa Tasikoki.
Jika tertarik untuk melamar, silakan kirim CV dan surat lamaran ke info@masarang.or.id Sertakan pula posisi yang akan dilamar di subyek surat elektronik.

HEALTH & HUSBANDRY CO-ORDINATOR
Dia bertanggung jawab terhadap kesehatan satwa secara umum di Tasikoki. Kami mencari seorang koordinator yang mampu mendukung dan mengawasi tim medis dan husbandry yaitu tim dokter hewan dan tim animal keeper di Tasikoki.


HUSBANDRY COORDINATORS
BIRDS, PRIMATES, REPTILES
Kami mencari Husbandry Coordinators yang dapat membantu pengembangan dan pengimplementasian kegiatan rutin perawatan satwa untuk program sukarelawan. Lebih diutamakan memiliki pengalaman pada taxa yang spesifik (aves, primata, atau reptil).


SECURITY CO-ORDINATOR
Kami membutuhkan koordinator keamanan yang berpengalaman yang akan membawahi 6 Staf Keamanan. Dia akan bertugas untuk menjadwalkan patroli rutin dalam kawasan Tasikoki, menjaga agar standar keamanan terpenuhi, dan agar kawasan Tasikoki aman bagi seluruh satwa dan pengunjung.